I have always been passionate about empowering business users by simplifying the complexity of using AI. At BeyondCore we automated business analytics through AI to bring advanced analytics to any business user. For the first time, anyone could automatically analyze millions of data combinations in minutes to get unbiased answers, explanations and recommendations. After BeyondCore was acquired by Salesforce, we were able to impact the lives of even more business users as part of the Einstein family. But, over the last few months I came to realize that my favorite tool, AI, was itself fundamentally misguided.
AI simply has no concept of business realities and constraints. For example, in the real world, the benefit gained by a correct prediction does not always outweigh the loss caused by an incorrect prediction. But every AI model ever created ignores such cost benefit imbalances. Over the last few months I have had the privilege of working with a truly motivated and inspiring new team to solve this fundamental problem with AI. At Aible, we are creating Real AI for Real Business. Now you can move past traditional model accuracy limitations and start using AI to drive real business value.
We invite you to be a part of this exciting journey. Sign up for the product launch to learn more and try Aible for yourself. Follow us on LinkedIn and join us for our big reveal at The Gartner Data & Analytics Summit this March.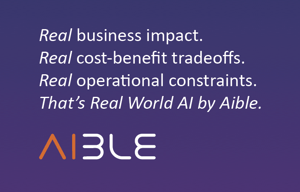 I look forward to starting this new journey with you!