Posted by

Aible ● May 24, 2021 11:14:09 PM
3 High-Impact AI Use Cases for Higher Education
Higher Education Is Facing Unprecedented Challenges.



In the last decade, the US has seen an enrollment decline rate of over 2 million students. Now in the wake of Covid, institutions are faced with a fresh set of problems around student enrollment, student and faculty retention, donor engagement, marketing spend optimization and more. Some institutions are reopening all of their classrooms, but with new safety protocols in place. Others are adopting a hybrid model, with a mix of online and in-person instruction. Still others are accommodating students and teachers who prefer a 100% online experience for the foreseeable future. That means colleges and universities increasingly need robust scenario planning so they can adapt quickly to rapid changes in the months ahead.
Forward-looking colleges and universities of all sizes are meeting disruption head-on with artificial intelligence to take better data-driven actions.

According to The Microsoft and Times Higher Education AI Survey, 95% of universities agree that artificial intelligence represents a significant opportunity. To that end, a recent AI in Education Market Research Report from Research and Markets predicts that the global AI in the education market will reach $25.7 billion in 2030, up from just $1.1 billion in 2019.
Aible Transforms Higher Education By Driving Impact with AI
Aible's enterprise AI solution, rated #1 for AutoML by Gartner, enables higher education institutions to anticipate enrollment trends, optimize recruitment efforts, elevate academic performance, improve alumni donor outreach prioritization and more. What makes Aible different is that starts from your organization goals and creates custom AI to achieve them. With Aible, you can optimize across departments and balance investments across functional needs and objectives to make sure that everything is working in concert.

Here are 3 high-impact AI use cases that higher education can use Aible to improve student and institutional outcomes:
Optimize Student Enrollment and Retention
The rapidly changing educational landscape has made it more important than ever for higher education institutions to cost-effectively bolster program enrollment as well as student retention. AI enables colleges and universities to focus on targeting the right candidates, maximize tuition fee revenue, and promote retention activities at the lowest possible cost, by predicting which students are likely to drop out within a defined period.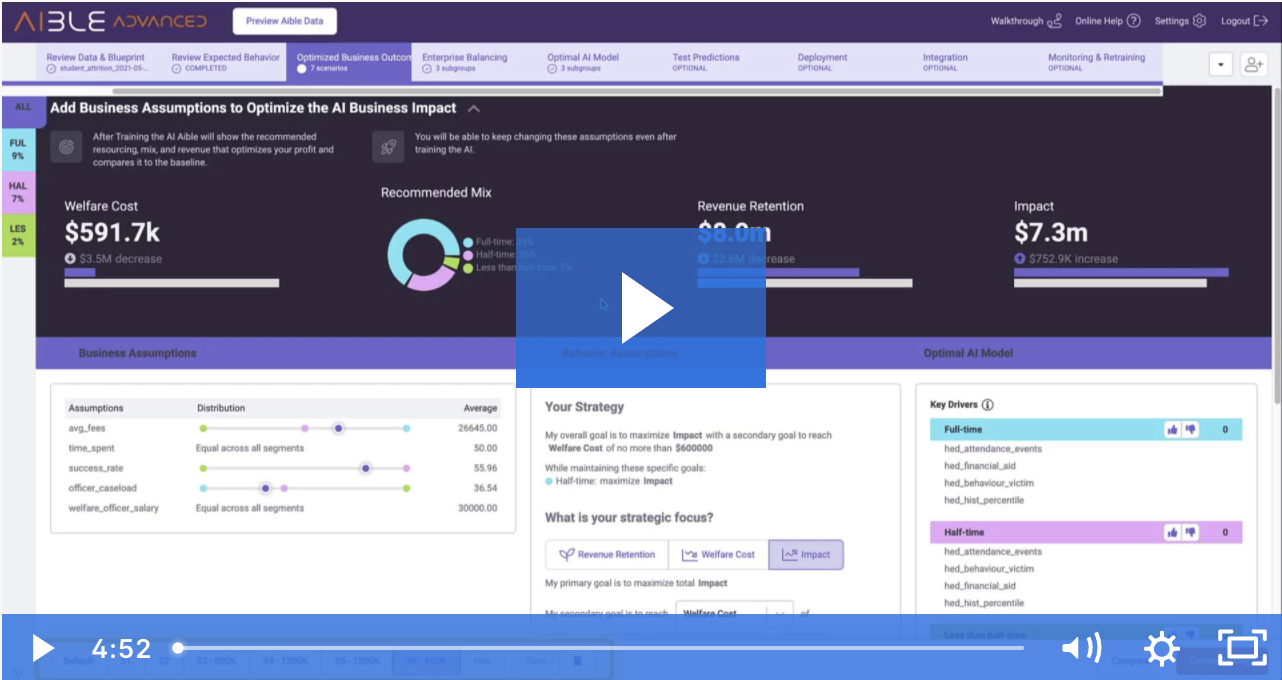 With Aible, institutions can create segmented retention strategies for different sets of students, including academically talented students, high‐risk students, commuter students, international students, undeclared major students, and transfer students. Institutions can also transform student enrollment with targeted and highly personalized marketing efforts and channels and optimally retain them with targeted strategies.
Partner Highlight

Aible has partnered with Boomi to bring the power of AI to Higher Education. Instantly enable your teams to go from raw data to AI-powered recommendations within the applications they use every day with seamless connectors through Boomi.



If you already have Boomi, watch this video to see how Aible and Boomi deliver impact for Higher Education with student retention.
Success Story Highlight

Aible recently helped a global education institution optimize retention intervention across their portfolio of more than 50 schools to save

0.5% of the 20,000 students that churn each year

. By identifying those likely to churn and performing outreach with their limited intervention resources, they expect to

save $2 million

in the first year using Aible. They would achieve ROI if the project prevented just 2 students from churning.
Donor Prioritization
Aible helps higher education administrators better target and optimize donor contributions and build stronger long-term relationships with contributors. Aible makes actionable recommendations that help donor relation teams focus on top contributors by identifying key drivers, including donor's demographic information, previous individual donation amounts and patterns, event attendance, wealth indicators and other related engagement metrics. Aible optimizes donor outreach efforts and retention activities while optimizing spend by determining which donors are likely to contribute and the best engagement strategies for each donor.

Aible seamlessly integrates with popular enterprise and analytics applications like Oracle Netsuite, Salesforce, and Tableau, so all predictions and recommendations for lead scoring, call prioritization and other use cases appear within your existing dashboards and reports. By leveraging AI across the entire institution, colleges and universities raise money more efficiently and build more personalized relationships with donors. Aible is always trained on your institution's strategic intent and adjusts to change quickly, ensuring sustained impact.
Increase Student and Faculty Performance
Aible helps colleges and universities improve student outcomes and connect with students in personalized relationships. Aible can improve student performance by recommending students who would benefit from study groups, additional tutoring and extended office hours to prevent them from falling behind. It can also notify students prior to enrollment that they are at high risk of changing from their selected major and provide reasons why.

By identifying early warning signs and students who are most likely to struggle academically, student success personnel will be able to create plans that anticipate, rather than react to, student difficulties. Aible enables institutions to intervene with high-risk students by targeting and optimizing in-person, phone, email and virtual activities and coaching.