Posted by

Aible ● Oct 12, 2020 1:30:01 PM
Aible Partners with Boomi to Deliver Unprecedented Opportunities for IT and Business Teams to Deliver Business Impact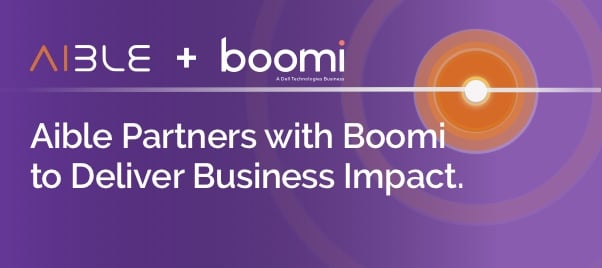 Aible brings AI to Boomi Atomsphere –enabling teams to create business impact with AI directly within their business applications.
Aible has partnered with Boomi to deliver a solution that democratizes AI and provides unprecedented opportunities for IT and business teams to deliver ROI.
Today, AI is an academic exercise that fails to deliver business impact 65% of the time, according to a survey by MIT-Sloan and the Boston Consulting Group. Aible is the pioneer in ROI-optimized AI that systematically delivers business impact while respecting the organizations' business constraints. But AI can't provide impact unless it is accessible via the applications business users leverage every day—at the moment when they make a decision.
The Aible-Boomi partnership unleashes the power of business-optimized AI—bringing it to the 1500+ technologies and applications supported by Boomi. Moreover, as business circumstances or end-user preferences change, users can adjust the Aible-optimized AI with a click without affecting any of the Boomi integrations. All of the work done by IT remains unaffected even as the AI updates to reflect the changing business realities or user preferences.
Aible enables business users across the organization to leverage the power of business-optimized AI in the applications they use every day and achieve ROI from AI. Boomi extends the reach of the Aible platform by integrating disparate data sources, cataloging and preparing data, enforcing data governance policies and automating workflows across applications. Watch a Demo
Two Powerful Platforms. One Unique Focus on ROI.
Together, Boomi and Aible provide the data integration, management and AI platform tools that democratize AI and free centralized data teams to focus only on the most complex and high-value projects.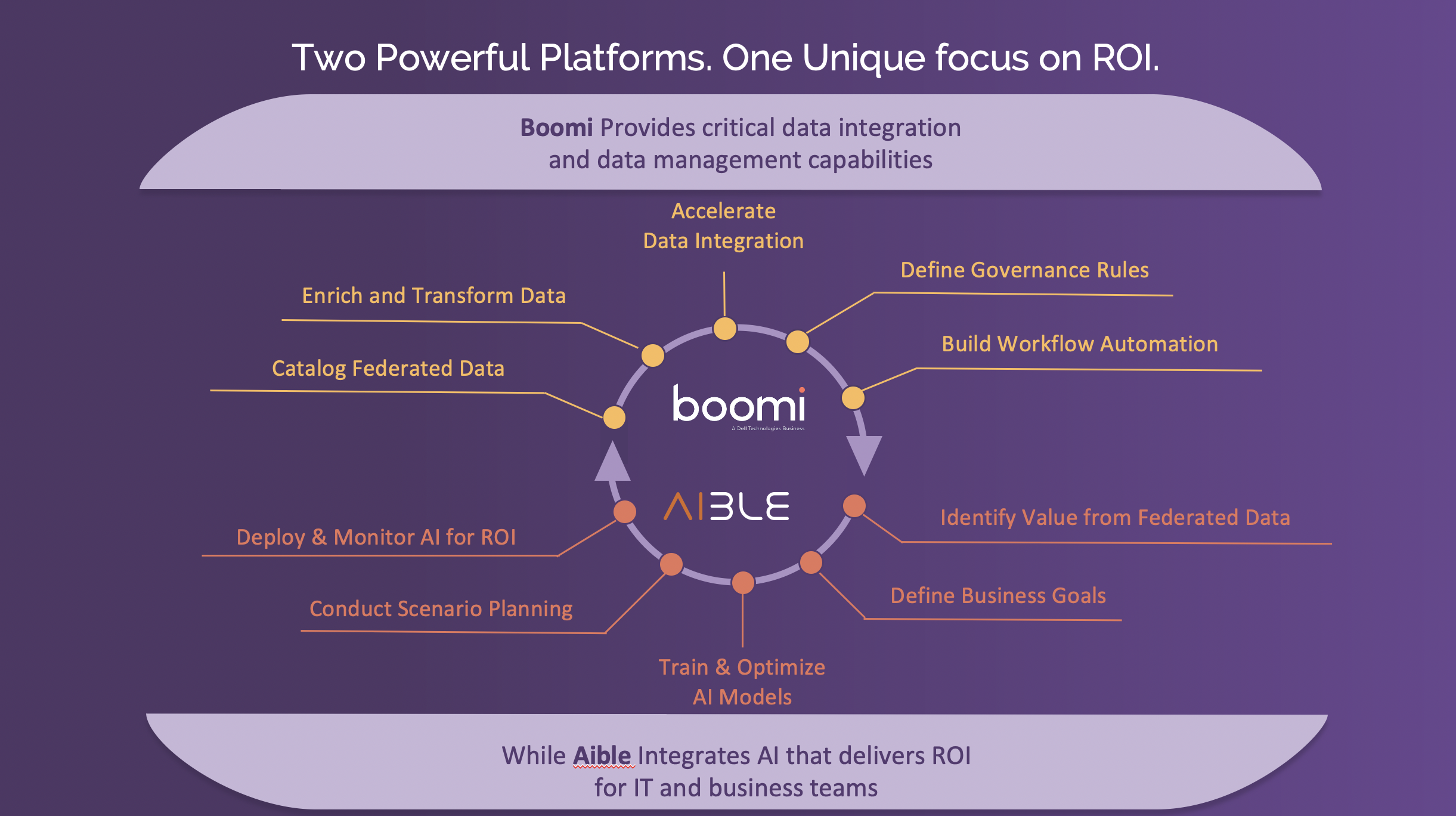 The Boomi-Aible partnership is a key step in Aible's long journey to empower every business user with the power of AI. Aible Founder and CEO Arijit Sengupta, was previously founder/CEO of BeyondCore, which became Einstein Discovery after Salesforce acquired it in 2016.
In today's uncertain world, it is especially crucial that business users can leverage AI-powered recommendations to make the right decisions under uncertainty to deliver optimal business impact. The Boomi-Aible partnership removes all of the complexity in delivering ROI via AI while preserving the organization's ability to be flexible as circumstances change.
Joint Solution Creates an Unprecedented Opportunity for Business & IT teams to Deliver ROI.
For the first time, IT teams will gain the ability and unparalleled flexibility to launch integrated AI experiences for business teams that react to changing business and market conditions as well as feedback from end-users. Centralized IT teams will also be able to leverage Aible to monitor and quantify the business impact created by the AI. Business teams will benefit from AI-powered recommendations within the applications they use every day. It will allow business teams to leverage an iterative and flexible approach for agile strategic planning and scenario testing to demonstrate sustained business impact and ROI.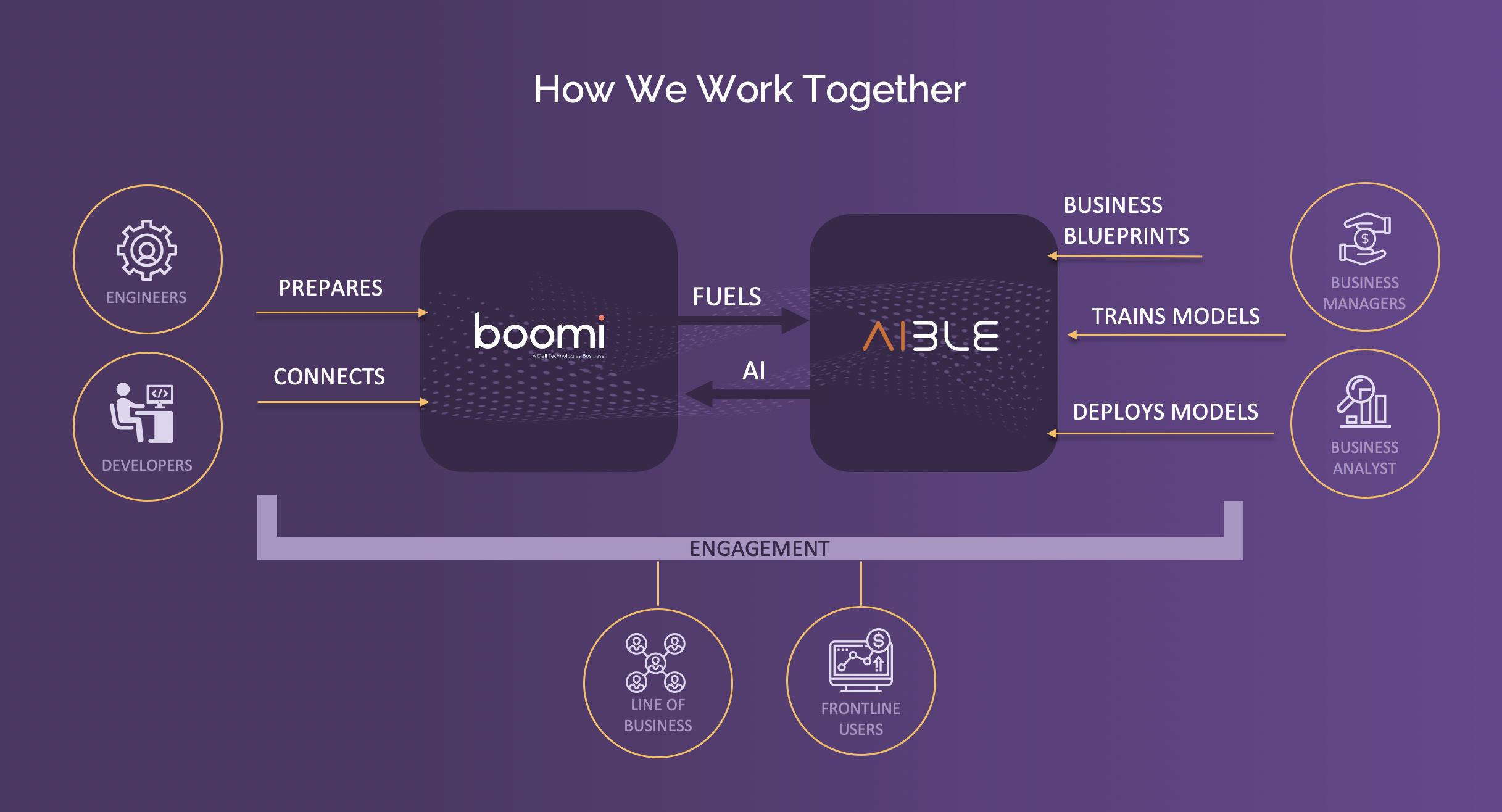 Aible and Boomi bring together two solutions that have been recognized by top analysts as industry leaders. For the seventh consecutive year, Gartner has positioned Boomi as a Leader in the 2020 Enterprise iPaaS Magic Quadrant. Gartner has recognized Aible as a Visionary in the Gartner Magic Quadrant 2020 for Cloud AI Developer Services and as a Cool Vendor in 2019. Combined, this partnership delivers integrated experiences that will scale AI across the critical applications your business teams depend on every day.
The joint solution with Boomi and Aible opens up an unprecedented opportunity for both Business and IT teams to deliver ROI. IT teams, for the first time, will be able to deploy flexible AI solutions to business teams. For the first time, IT teams will be able to demonstrate real impact to the business organization. Business teams will gain access to AI within the applications they use and demonstrate sustained business impact and ROI -- even with constantly evolving business and market conditions.
Together, Boomi and Aible deliver business impact with AI by enabling business teams to optimize actions and resources.
Boomi provides critical data integration and data management capabilities to:
Enrich and Transform Data
Accelerate Data Integration
Implement Data Governance:
Launch Automated Workflows
Aible brings integrated AI experiences into all critical data systems and applications that helps teams drive ROI. Aible helps business teams:
Validate data and AI-Readiness
Train and optimize AI models
Conduct Scenario Planning
Deploy and Monitor AI to deliver ROI
The combined cloud-native platform makes it easy to get started with AI and accelerate your progress towards integrated experiences across the enterprise. Aible and Boomi help business users answer questions such as: How can I optimally change my sales budget and resources given changing assumptions and market realities? How much do I need to invest in customer retention efforts to maximize ROI? How can I optimally change my marketing budget and resources given changing assumptions and market realities? How can I balance inventory carrying cost against expected expedite costs to minimize risk and expense? Aible starts with your intended outcome and crafts an AI trained to that outcome.
Aible speaks the language of business so that businesses don't have to speak AI. Together, Boomi and Aible deliver the power of connectivity and business-changing AI.
Early Access Program
To leverage the power of AI with Aible and Boomi, customers of Boomi can enroll in the Early Access Program. The program enables customers to add AI into their existing applications for targeted use cases and deliver business impact.
Enroll today.