Posted by

Aible ● Jun 17, 2021 8:41:12 PM
3 Reasons Supply Chains and Manufacturing Should Consider AI

Supply chains continue to face unprecedented challenges.



According to a recent survey by the Institute of Supply Management, manufacturers face "record-long lead times, wide-scale shortages of critical basic materials, rising commodities prices and difficulties in transporting products across industries."

The effects of Covid-19 on business supply chains continue to be long and deep, even as economies have opened up. Increased demand is posing unique challenges, as inventories and production have to be increased. Since the pandemic hit, 28% of companies have faced shortages and stockouts, while 56% of companies have had to renegotiate contracts due to supply chain disruptions.
Leading companies are meeting supply chain disruption head-on with artificial intelligence to take better data-driven actions.
According to McKinsey, 61% of executives report decreased costs and 53% report increased revenues as a direct result of introducing AI into their supply chains. Lower inventory-carrying costs, inventory reductions of up to 75%, and lower transportation and labor costs are among the biggest areas of savings. Another report by McKinsey indicates that AI and ML-based implementations in the supply chain can reduce forecast errors up to 50%.
Aible Transforms Supply Chain Operations with Guaranteed Impact
from AI in 30 days.
From cost savings through reduced operational overhead and risk mitigation, to enhanced supply chain forecasting, employee recruitment and churn reduction, improved customer service and end-to-end visibility, Aible uses AI to optimize your supply chain operations. Aible, rated # for Automated Machine Learning - Cloud AI by Gartner, guarantees impact in 30 days by increasing supply chain visibility, and improving inventory planning, distribution and warehouse management, and logistics.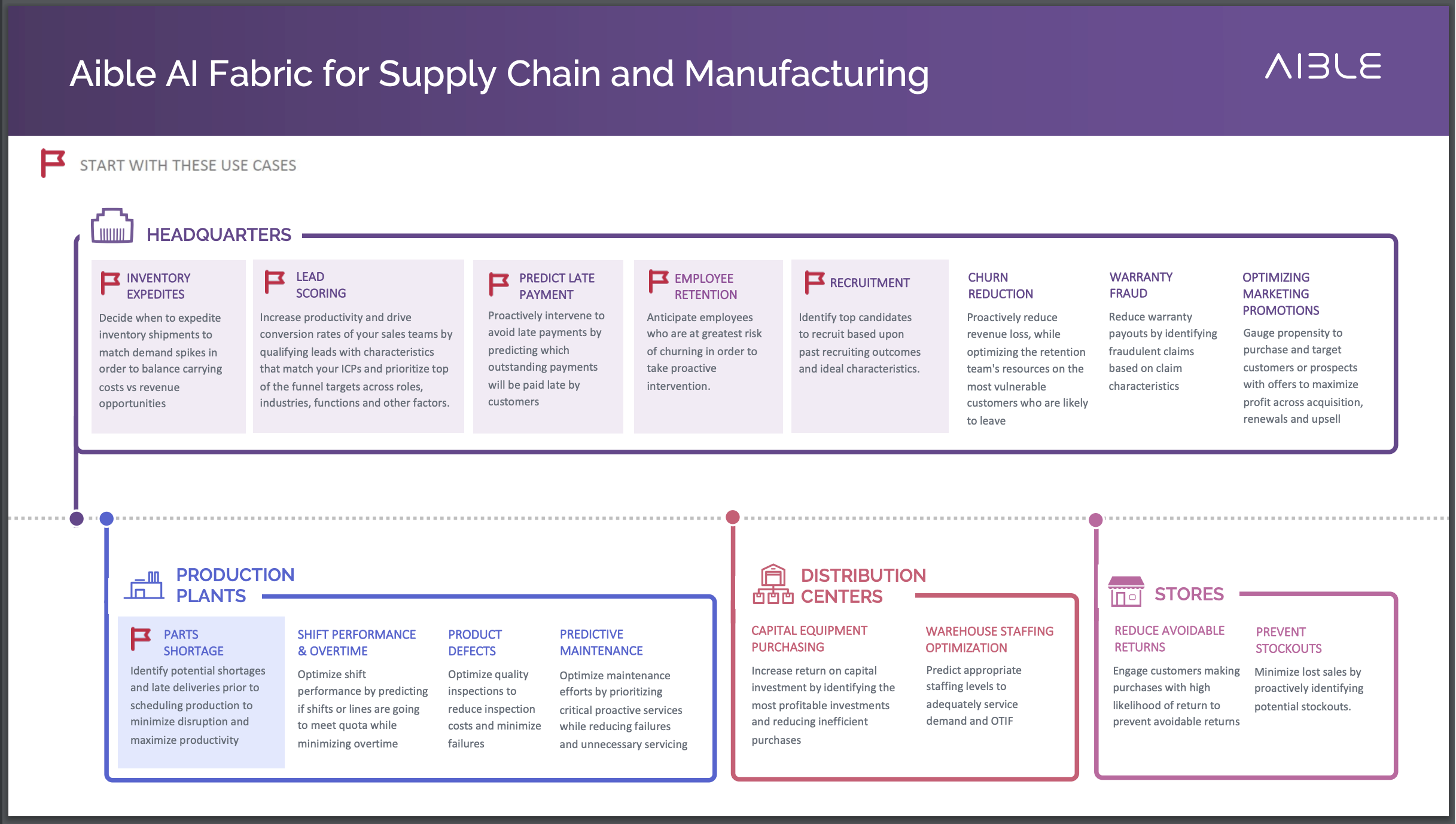 Here are
3 high-impact use cases
where organizations can see immediate results with Aible by optimizing their supply chains:
Inventory Expedites
Here are 3 high-impact use cases where organizations can see immediate results with Aible by optimizing their supply chains:
Any predictive model can tell you whether a particular item is likely to be on-time or late. But that doesn't solve your supply chain problem. Not all of your stock items are equally valuable to your business. Some deliveries can be late and have little or no effect on your business. But some shipping delays do have a material impact on your business – in some cases, a disastrous one.

Aible goes beyond predictions to deliver supply chain optimization. It tells you whether you should expedite a specific material or shift production. Aible also enables you to balance inventory carrying cost against expected expedite costs to minimize risk and expense and allocate inventory budget across materials and locations. That enables you to determine exactly how to optimize your expedite budget so that you reduce your overall expedite spend while also ensuring that you always expedite the right things.
Employee Retention
Left unchecked, employee attrition can be costly for supply chains and manufacturers. Identifying, acquiring, and training qualified new employees can divert a business from what's truly critical to its survival – revenue growth. In a competitive hiring marketplace, organizations can't afford high attrition, especially when it comes to top talent. Supply chain disruptions over the past year have meant many roles require extra effort and long hours to meet deadlines, process shipments, and stay on a production schedule, making employee retention even more challenging.
Aible helps organizations anticipate employees who are at greatest risk of churning in order to take proactive intervention, as well as identify top candidates to recruit based upon past recruiting outcomes and ideal characteristics. Aible identifies patterns and early warning signs of employee dissatisfaction and prescribes optimized actions for managers to re-engage those employees, such providing opportunities for employees to develop their skills through continuous training, paying for them to obtain certifications, or assigning them to special projects. In this way, Aible enables managers to intervene early to retain their high-value talent and avoid costly hiring surges.
Stockout Prevention
AI can help manufacturers minimize lost sales by proactively identifying potential stockouts. Aible goes beyond predictions to help companies avoid the stockouts that matter most and allocate inventory carrying budget across materials, and locations. As market conditions, production levels, and transport restrictions change across regions, Aible shows you exactly how you should change your safety stock and expedite thresholds to compensate.
As conditions shift, demand will fluctuate, and certain items will become critical to the business. Warehouse space is increasingly becoming a constraint as companies stock up to get ahead of inflation. If you suddenly have lower sales of an item, the cost of a stockout is much lower. Aible enables you to quickly change your business assumptions so that you're dynamically adjusting to new market realities.
Aible seamlessly integrates with popular enterprise and analytics applications like Oracle Netsuite, Salesforce, and Tableau, so all predictions and recommendations for stockout prevention and other supply chain use cases appear within your existing dashboards and reports so that you leverage AI insights across the entire institution. Aible is always trained on your organization's strategic intent and adjusts to change quickly, ensuring sustained impact.
Getting Started with Aible
Click here to get started with Aible today and learn how we can help you optimize your supply chain in 30 days, guaranteed.